"And the Word became flesh and dwelt among us, and we have seen his glory, glory as of the only Son from the Father, full of grace and truth. ... And from his fullness we have all received, grace upon grace." John 1:14 & 16
Christmastime is usually when we hear these verses, but lately they have been a couple of my faves.
I have no fullness apart from Him.
Awhile back I went to counseling. And one of the pieces of advice the counselor gave me was, "fake it till you make it." I hated that advice. I still do. I stopped going to that counselor even though she graduated from my alma mater.
I can't fake it till I make it. When I pretend that everything is okay, inside I still feel miserable. I cannot fake a life of joy or hope or thanks or any of it. Not for long anyway.
So what is the alternative? Resort to my natural pessimistic tendencies? I guess I could, but that doesn't make my life much fuller either.
I have to make the choice to be authentic but still optimistic. I have to choose to have the perspective of saying in the same breath, "Such and such sucks, but it could be worse. I have been given the gift of ______. " I have to choose to ask for the grace to continue pursuing the full, abundant life even when I'd rather pull the covers over my head. I have to choose to pursue the Giver of the Full Life.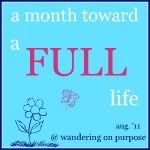 (author's note: I realize this post may have seemed like I am having a difficult time right now - I am not. But I have at other points in my life, and I probably will again. No worries - life isn't perfect, but it IS pretty full right now.)