Yes, I know yesterday I wrote all about my love of staying home, AND I do love it. Every word I wrote was sincere. But then last night I was able to hang out for a little bit with many of my old fourth grade teaching buddies, and it made me miss my former life.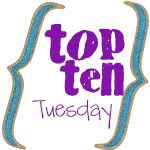 The Top Ten Things I Miss About My Teaching Days:
1. school supplies - seriously I am addicted to spiral notebooks, 1 inch binders, and pocket folders. Keep me away from Target and Staples July-September.
2. lesson planning - sick, I know, but I love curriculum - longterm planning on calendars, researching ideas, tweaking things to make them "my own"
3. keeping up on quality children's literature - I love the picture books I read to the boys, but I miss reading some Mark Twain Nominees, and I was one of those who liked the Sarah, Plain and Tall unit.
4. lunch break - prekids I thought teachers got the short end of the stick when it came to lunch (and they do), but at least most days I ate lunch with some adult conversation and with only myself to feed
5. adult conversation - before school, lunch, recess, and after school there were opportunities to interact with those who remember a pre-Elmo Sesame Street
6. pranks and inside jokes - basically I miss the rubber rat that would randomly appear in copy machines, minifridges, and desk drawers
7. lightbulb moments
8. making a difference in the lives of kids - some of whom came from some pretty rough situations
9. a feeling of clear accomplishment - at home few things ever seem "done," but at school there were clear ends to tasks, units, quarters, etc.
10. a paycheck