They grow much too fast for this mommy's heart.
Bubby is learning and doing and saying new things everyday. Something new will surface, and The Hubs and I will look at each other and say, "When did he learn that?" I can't imagine not being here all the time to see each of his lightbulb moments.
I have encountered some rudeness regarding my decision to stay-home, and it takes everything within me to remain tactful and graceful during those times. It is easy and human nature to want to complain, and regardless of what type of mom you are, the grass is often greener on the other side. So today I am going to count the green blades of grass instead of the weeds on my side of the fence instead of throwing rocks into or attempting to steal flowers from someone else's yard.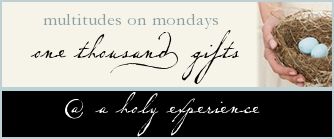 Joining with Ann's group and giving thanks for all that is green and good and growing inside my own boundaries:
685. filthy hands and feet and faces from outside morning playtime
685. toddler sorting sidewalk chalk instead of drawing with it
686. baby waking me up at 7 (or sometimes 6) with giggles and coos
687. the ease and benefits of breastfeeding
688. learning to ask for help
689. learning to do some things on my own
690. home cooked meals instead of take-out
691. seeing that somehow the bills still get paid
692. snuggle time on the couch throughout the day
693. piles of blocks and books and puzzles
694. singing even on the shortest of car rides
695. time to find activities to do with my kids
696. beginning to grasp the value of time over money - the big picture over the here-and-now
697. new dress from my mom just to make my day
698. brand new insight into why I feel so strongly about why I stay home - one of my top 5
strengths
is Belief
699. knowing that ninety percent of the time when The Hubs asks, "Where did he learn that?" we both realize it was from me
700. the resolve to
endure
enjoy two more years of
frugal
sacrificial living
(Side note: Some of my favorite people are moms who work outside of the home, but these favorite people of mine have never uttered, "Must be nice to stay home," because they realize each of us have made choices for ourselves that we deem best for our unique personalities and families.)