Can I be lazy AND grateful at the same time?
You see, I missed a few days of quiet times/writing in my gratitude notebook (which may have in part explained the not-so-terrific-mood I was in on Saturday). And now Multitude Monday is almost over. AND I am too lazy to go to my room to get my simple blue spiral PLUS my sweet baby boy is sleeping on my lap, and I know these days are fleeting... so I will just wing-it. (And I will stop overusing using AND for a bit.)
668. "swimming" in a big pool for the first time with my babies and my sister-in-law
669. Bubby chasing lightening bugs/fireflies
670. two successful nights of Bugaboo in his new room with big brother
671. country music on the radio - don't judge me ;)
672. toddler attempting to talk on the phone to great-grandma
673. pictures on the walls - it only took SIX years to decide what to to do
674. overnight blueberry French toast bake to die for - not soggy at all - yum - a great way to start a Monday
675. some pretty awesome chicken and even-better-the-next-day brocoli casserole - comfort food at its finest
676. steps in the right direction
677. sweet and delicious variety of fruit - another perk of summer
678. s'mores in the microwave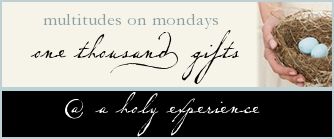 hmmm - most of my list tonight is about food...