In just a few days I will become a mom of a two-year old. Where does the time go?? Since becoming a stay-at-home mom, I am surprised that I actually have some free time (depending on the day/week/season/phase)- different than the free time I had when I was working as school teacher. And in that free time that I sometimes able to get, I often choose to read. Probably because it offers an escape, it teaches, it encourages, and it can be done in little snippets - which is how my freetime usually occurs - in snippets.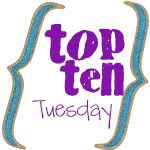 This is my first time participating in Top Ten Tuesday, so here are my top ten reads from the last two years: (I hope I didn't forget a favorite)
10.
In The Land of Believers: an outsider's extraordinary journey into the heart of the evangelical church
- Gina Welch - I agreed with this atheist on a lot of her commentary (though not all) - very interesting read
9.
The Mission of Motherhood
- Sally Clarkson - gave me some things to think about as I entered this new phase of my life
8.
The Christmas Sweater
- Glenn Beck - even if you don't like Glenn Beck politically, this is an easy read, a simple but sweet story - warmed my heart - had nothing to do with politics
7.
The Guernsey Literary and Potato Peel Pie Society
- Shaffer and Barrows - LOVED the characters in this book - I wanted to be their friends
6.
Living With Less So Your Family Has More
- Jill Savage - the title really says it all
5.
Forgotten God
- Francis Chan - in many ways completely different than what I thought it was going to be about - huge fan of Chan
4.
The Help
- Kathryn Stockett - amazing characters, historical story - if you can only read one novel this year, read this one
3.
Twilight
- Stephenie Myer - yes, I finally gave in and watched the movies (which I am a book-first kind of a girl), and then have started the books. delightful. yes, I used the word delightful about a vampire book
2.
Daniel
- Beth Moore - technically more than a book, it was an 11-week study - my first Beth Moore study that I actually COMPLETED. I would do this one again it was THAT good.
1.
One Thousand Gifts
- Ann Voskamp - life-changing.