They came in on Thursday and left mid-Saturday. A blur of celebration and food and time together as we recognized my not-so-little-anymore brother's hard work and accomplishment. Master's in Accounting.
Where's the little brother I bossed around?
Where's the crazy teenager in school musicals who answers to the name Lugz?
He's still here, but these days you can find him all grown up, reading stories to his oldest nephew when we come over for a visit.
I am so proud of his hard work and the type of man he has become. We have our moments of disagreement from time to time, but I know that when push comes to shove that we have each other's back. I could not ask for a better brother.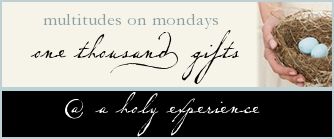 Joining with
Ann
celebrating the big moments and the everyday blessings
584. Bubby's barefeet FINALLY, FEARLESSLY frolicking in the grass
585. Bugaboo's hair damp as he snoozes on my neck
586. chopping onions for a new recipe and dinner together
587. Bubby sleeping while praise music pours through his room
588. leftovers that The Hubs says taste better than the original day
589. The Hubs bringing home dinner when I ruin what I was making
590. mama-gut confirmed by pediatrician
591. opening for next day appointment w/ pediatric opthomologist
592. Bugaboo's healthy eyes
593. knowledge of what to look for over the next few months in his eyes thanks to the doctor AND a friend who should have an honorary MD
594. open doors for loved ones
595. best friend turning thirty ... twenty years of friendship - what a gift that has been to me
596. homemade dinner rolls right out of the oven.. I almost make them as well as mom does
597. air conditioning
598. heat :)
599. old people smiling at my boys
600. master's degree celebration
601. grandparents playing with grandbabies
602. squeals from Bubby as he plays with his favorite dog, Sasha
603. Mimi playing Legos with and reading to her great-grandson
604. some one-on-one time with my grandmother
604. table filled with love and laughter