The thirteen hour solo Friday, the carnation my toddler put in the toilet, the diaper that exploded in the carseat after church - the memories of these are starting to fade already as I move Bubby's sweaty little head away from the bars of his crib and as Bugaboo finally falls asleep next to me.
Living a thank-full life takes effort. Just when I think I have it down, my attitude, my circumstances get the better of me. But I have a choice. Wallow in negativity and thoughts of how I'll never get it perfect or give myself the grace to pick the gratitude up where I left off. I choose grace, not just for others, but for myself. Grace. Thanks. Joy. Lessons I keep learning from life and from
Ann
and from so many more...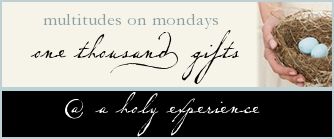 569. less ants this week
570. the way Bubby says "baby" in a high pitched voice when he talks to Bugaboo
571. One Thousand Gifts - finally my turn from the library
572. Bubby napping easily on a cranky day
573. saying "oh well" at failed muffins and eating a couple tops anyway
574. beautiful May days
575.watching Bubby build lego towers
576. the smell of Play-do as I roll snakes to my toddler's delight
577. Bugaboo's sweet snore
578. Bubby gobbling up "rocky" (broccoli)
579. sweet pea body wash
580. sharing ice cream on a spring night
581. driving with the windows down
582. the way icing drips on the lemon pound cake
583. the hums of lawn mowers
584. the ability to bend to pick up crumbs and having a child who gets crumbs everywhere
585. speech/language results
586. all of us up to see The Hubs off
587. plethora of Mother's Day cards to send - better late than never
588. Bubby's "signature" on cards and the way he loves the privilege of using a pen
589. Mother's Day nap for all four of us
590. March of Dimes walk with some of my favorite people
591. almost all of the ABC's learned
592. finally warm enough to wear coordinating Easter outfits
593. giving myself some grace