The death toll climbs and the pictures are devastating just down the interstate from us. And I wonder how I can keep counting my gifts - big and small - in the midst of other people's loss and pain? How do I celebrate beauty and joy and laughter when tears come as I watch the news, listen to the radio, read prayer request from friends who are there in the aftermath.
The gifts of the last week seem trivial now - but I will keep counting anyway because it only takes moments for everything to be lost.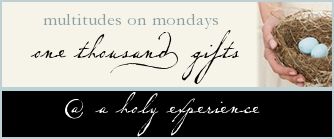 And I am reminded again that as wonderful as the little blessings in life are, they are just reminders of what is really important - family, friends, faith and the Giver of them all.
605. out of the blue texts & emails of encouragement
606. trusting we are here for a reason
607. dreams
608. exhortation to take a step of faith
609. transparency from others
610. the Lord's prayer sung in service
611. learning to better memorize truth
612. sunlight streaming
613. sharing a muffin with Bubby
614. Beth Moore and Alicia Chole quotes posted and reminding me
615. chocolate cake for breakfast and chocolatey kisses
616. onions and tomatoes and mushrooms and peppers used in a few ways this week
617. choosing to let go
618. Bubby turning a paper towel roll into a trumpet and a sword
619. mom-made afghan pulled out
620. payment plan from hospital
621. Bugaboo eating his first foods
622. chunky baby legs
623. free photos
624. heart-stirring
625. "Auntie Me" calling to watch the boys so The Hubs and I could have a date
626. child-free dining
627. browsing bookstores
628. hands free to open car doors and to hold
629. walk in the park with my three favorite people