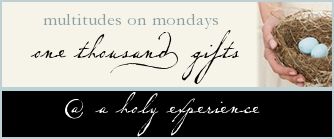 Over the last few weeks, two childhood friends have experienced the worst kind of loss. Loss of a brother and loss of a daughter. I cannot fathom the pain and sadness they each are experiencing. What right have I to focus on what I think I lack rather than all I have? It is always easy to compare myself with those who have more, those who seem to have it all, those who appear to have what I want.
I heard a sobering statistic yesterday. Seventy-plus percent of American dogs are overweight. Our family pets have an over-abundance, yet in this country and around the world children do not have enough to eat. What am I doing about it? And how much more should I count and remember to be thankful for each gift I have been given?
522. quiet times while the boys somehow nap simultaneously
523. sunny afternoons and a backyard to play in
524. chocolate chip cookies right out of the oven
525. signs of summer
526. husband working hard to make my dreams come true
527. Bubby and Bugaboo sleeping until 8:00 on Saturday -- how did they know to do that?
528. furniture rearranged for a free change in the living room
529. rolling over milestone
530. request for "Pop Pop" (Hop on Pop) to be read over and over and how it has Uncle Chow's name on the inside cover