I cried yesterday. I haven't cried as much lately - I did a whole lot these last 6-12 months due to hormones both natural and synthetic and then the drop known as post-partum. But yesterday I got teary at church as we sang "Praise to The Lord, The Almighty" because some hymns just do that to me as the theology in the words and the notes in the air stir my heart.
And then last night I cried. I had been a little overwhelmed with toddler and baby that evening, so I handed Bugaboo to The Hubs and said, "I need five minutes," which I took in the car in the driveway with a brief phone call to my mom who assured me this roller coaster of joy and exhaustion and frustration are normal in motherhood. So I returned to the house refreshed.
And more tears came near the end of the evening as my baby smiled and "talked" to me in his infant language. Everyone who knew my grandfather comments on how Bugaboo's mouth looks like his, and last night he looked so much like Papa as he grinned at me that happy tears flowed as I gave thanks for my boys - one who has Papa's name in his and one who has his smile - constant reminders of love.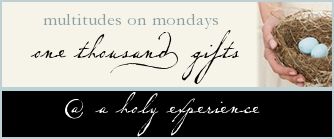 460. church that sings a hymn in the contemporary service
461. free Krispy Kreme donuts
462. unexpected packages
463. Bugaboo's smile
464. Bubby requesting songs
465. slow Monday mornings after Bugaboo stayed up too late
466. clatter from cookie sheets Bubby repeatedly pulls out of the drawer - simple joy
467. forty minute/99-cent escape to a Sonic Drive-In, quarters for my large vanilla Dr. Pepper, boys happy in the back-seat, Bible, journal, and Alicia Chole devotional - some days that is how I get my quiet time
468. note from a college friend across the country with a toddler and a newborn, too
469. library books in piles around the house for Bubby and for me
470. a punch-card from our favorite coffee place left at a table just one punch away from a free coffee - a random act of kindness for us from a stranger