The fog is lifting. The fog of post-partum depression.
I didn't know if I should be bold enough to write about it, but there isn't much I shy away from here, and maybe my little bit of boldness will help someone else.
January was a rough month for me emotionally. The end of December was too. I cried a lot. I felt exhausted. I argued with The Hubs. I kept it together pretty well for The Boys, but barely. I didn't want to do anyone any harm, myself included, but I did want to get in the car and drive away from here, from my marriage. And it wasn't about The Hubs or me or what our marriage is or isn't. It was the hormones and the mind and the exhaustion and the stress.
But there were a couple of Divine Appointments. I really and truly believe the right people came in my path at the right time. And I talked to my doctor's office and got some medication (and if you have the same opinions as Tom Cruise on this then you can just stop reading my blog forever). And I know some people were praying. And the fog is lifting. I feel human again. I am smiling and laughing more again, and I am rational again. And I am writing this because there is no shame in what I dealt with, just as there is no shame if someone has diabetes or chicken pox or the flu.
I am just so very thankful that the fog is lifting.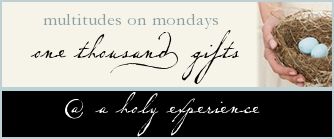 Joining with
Ann's
community and my continued list of blessings:
413. modern medicine
414. insightful people
415. snow days
416. 3 out of 4 of us almost over our nasty colds
417. baked potato soup, banana bread, and other yummy comfort foods I made this week
418. a gift card for a meal that I didn't have to cook this weekend
419. most of the dog fur out of my house (post on this coming soon, I think)
420. The Hubs taking care of Bubby on the mornings he doesn't have to get out of the house early
421. peanut butter frap that The Hubs made at home - sooo good and sooo much cheaper than buying one at a coffee place
422. taking pictures of my babies
423. watching Bubby and The Hubs sword fight with the vacuum attachments, and Bubby being concerned when his daddy faked being hurt - such a tenderhearted little guy
424. the way Bugaboo smells...how do babies smell so good?