" I sing to

God

, the Praise-Lofty, and find myself safe and saved. But me he caught—reached all the way

from sky to sea; he pulled me out
Of that ocean of hate, that enemy chaos,
the void in which I was drowning.
They hit me when I was down,
but

God

stuck by me.
He stood me up on a wide-open field;
I stood there saved—surprised to be loved!


God

made my life complete
when I placed all the pieces before him.
When I got my act together,
he gave me a fresh start."

(some verses from Psalm 18 MSG)




Have you ever felt like you have had a growth spurt? Not in the physical sense, but in the mental/emotional/spiritual sense? I feel like this last week or so something has happened in me. Not some big, hyped up experience or moment. I'm not even sure I can describe what the growth is exactly, and I know it is not anywhere near completion, but there is a difference in my home and in myself that I can actually feel, and for that I am thankful. And hopeful that I will be able to articulate everything better soon.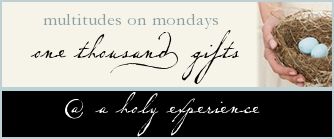 continuing to join with
Ann's
community as I await getting to check her book out at the library...I'm #11 on the hold list :)
425. good pediatrician visit for Bugaboo (stats and two month picture coming soon)
426. weather warming up
427. husband who eats new recipe that is kind of a flop without complaint
428. some boldness in faith on Saturday night
429. hearing "Hey you! Heyouuuuuu!" from my happy toddler in his crib
430. learning to not be such a snob and watching a movie I previously judged by its cover
431. cookie recipe that turned out better on day 2 than on day 1 and ended up being a keeper
432. new real estate agent and another attempt at selling our house (giving thanks in ALL things here)
433. Thursday morning pancakes
434.friend who edited some pictures for me
435. eyebrows that are under control
436. an hour at the hair dresser's...time just for me to do nothing but sit and get purtied up
437. husband who likes me having short hair
438. learning to not compare myself to or be intimidated by others...still much to learn