This weekend I had lunch with one of my closest friends. I was lucky enough to get to become her friend when we spent two years teaching together - literally in the same classroom teaching a class-within-a-class/at-risk room - for ninety minutes the first year and most of the day the second. When you co-teach with someone, for it to be successful your teaching styles and personalities have to mesh well enough, and you have to have enough similarities and differences in your strengths and weaknesses to benefit the students. It was an amazing experience, and I think I would have a hard time going back to the classroom without such a format and without such a co-teacher.
But the other day we FINALLY were able to get together, kid-free, for lunch, and chat away uninterupted for a couple of hours like the good old days. The time went by too quickly, and I was reminded of how important it is to have a few trusted friends.
And sometime this week I am ending the phone tag with my best friend. Even a hour one time difference is a pain to work around sometimes, so we try to make due with the occasional facebook messages and voicemails, but it isn't the same as a conversation. We have been friends since fifth grade. She has shared most of the significant moments in my life, either in person or via phone/email. We have seen each other through life's ups and downs, and I can't even begin to recount the inside jokes, the tears, the laughs, and the frustrations we have shared. At this phase of life I am in it is easy to just get wrapped up in survival mode, and then end up feeling alone and friendless, but it isn't true. I am blessed with some amazing friendships - I just need to do better at making time for them.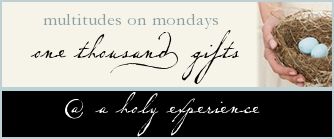 joining with
ann
's group to count the gifts I have been given this week:
439. kid-free lunch with my dear friend I don't see often enough
440. new shopping experience...Aldi...being pleasantly surprised
441.digital coupons for Dillons/Kroger - seriously a great idea hope this catches on in a bigger way
442. two little boys finally starting to feel better
443. fru-fru coffee for the first time in quite some time
444. visit from "Me" and "Chow"
445. The Hubs having a couple of class-free days recently
446. call from the realtor saying we've had some agents looking at our house on the website - (prayers for our house to sell please!)
447.milder weather
448. Bubby knowing the letters "M," "O," and sometimes "A" - just from our playtime with blocks
449.Bugaboo moving out of his newborn clothes to size 0-3 months