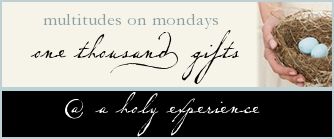 "
Don't worry about anything, but pray about everything. With thankful hearts offer up your prayers and requests to God. Then, because you belong to Christ Jesus, God will bless you with peace that no one can completely understand. And this peace will control the way you think and feel." Phil. 4:6-7 CEV
357. a pretty easy delivery
358. the epidural :)
359. a fantastic NICU staff that is taking excellent care of Mac2.0
360. tons of fuzzy, dark, outta-control, wild man hair on my baby boy
361. belly loops going away and being nothing
362. my mom continuing to stay here, buy groceries, cook meals, help with Bubby, etc.
363. family and friends helping, praying, encouraging
364. long baby toes and tiny baby nose
365. hope that, even with the recent setback, baby will be home soon