Last night I had a craving for a McDonald's apple pie (real quality stuff, ya know!) and hot chocolate. The box of hot chocolate packets ran out several days ago, so I headed out to get my 2 for $1 apple pies and hot chocolate. The nearest MickeyD's (which was advertising the warm beverage on their marquee) told me at the drive-thru that they were OUT of hot chocolate. I told them never mind. The Hubs (via cell phone) told me to try another. On the way there, the gas light on the car came on, so I had to fill up on the blustery night. The Hubs told me to wait, and he'd do it in the morning, but I had a fear of going into labor and running out of gas on the way to the hospital. "Good point," he said. So after refueling, I made it to McDonald's #2, which had a long line that was actually moving along at quite a nice speed. I order. I pay. I get to the next window. I wait. And wait. A polite worker opens the window and tells me that the "cafe machine" has run out of milk, and I had to pull forward to wait. So I did thinking how ridiculous my quest for two simple things had become. And after a few moments my pies and warm drink arrived, which I consumed before I even arrived back in my drive-way. The satisfied craving was completely worth the time. (But I do need to purchase more hot chocolate to have on hand at home.)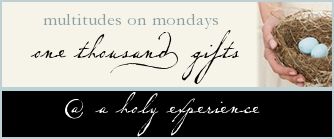 Thankful today for:
343. hearing of dear friends blessed by the amazing miracle of adoption
344. Christmas concert at church - simple, classy, beautiful - best one yet
345. fast food apple pies
346. Andy Stanley Christmas series
347. first wobbly steps
348. peaceful late night conversation after tense Sunday morning drive
349. thirty-four weeks and counting...
350. MO sister-in-law who comes over to help
351. CA sister-in-law who frequently writes, comments, texts to stay in touch
352. friends to call for extra Bubby back-up when Mac2.0 arrives
353. cousins' blogs
354. toddler who loves music
355. new picture book suggestions from librarian friend
356. learning to love the new dog since she loves my son so much